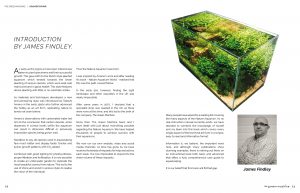 The ultimate aquascaping book! Immerse yourself in the world of James Findley & The Green Machine
This book covers all techniques involved in creating and maintaining beautiful aquascapes / nature aquariums / planted tanks, along with well over 100 colour photos of many beautiful aquascapes created by James Findley and The Green Machine.
A Masterclass in Aquascaping
Lavishly illustrated with photos of stunning planted tanks of all styles, if you're a beginner or a pro, you'll find this book a source of valuable information and inspiration. This is the perfect handbook for you to create your own beautiful planted tanks of any size. For the first time this information has been compiled into one complete publication. Featuring stunning imagery of many of the aquascapes showcased in our popular videos.
What's Included
120 pages, meticulously written and designed by James Findley & The Green Machine
High-res photos on heavyweight luxury paper
All aquascaping topics covered;

Aquariums, Substrate, Hardscape, Composition, Iwagumi, Plants, Lighting, Carbon Dioxide, Water, Fertilisation, Filtration, Maintenance, Algae, Step-by-step aquascapes (including Nature's Chaos)
Instant Download
Digital Edition - viewable on all devices
Worldwide shipping
High-Quality Print Edition
Durable, collectable hardcover edition
+ Instant Download
Digital Edition - viewable on all devices
Worldwide shipping
High-Quality Print Edition
Durable, collectable hardcover edition