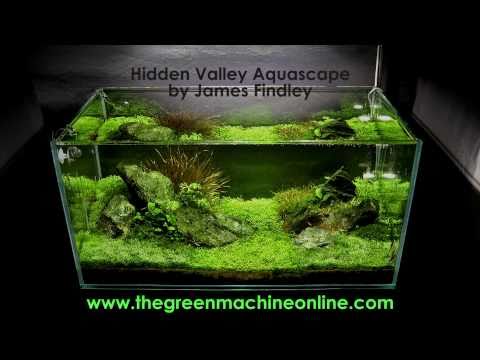 'Hidden Valley' by James Findley was commissioned for the Aqua 2010 Trade Show.
This scape was an exercise in innovative intuition, demonstrating that when we follow our instincts we can create the most naturally stunning art works.
James explained that in daily life we have a tendency to be consumed by conscious thought: dwelling on the past or planning the future rather than living in the moment; in the now. Creativity only exists in the moment, therefore whenever we spend time planning the future or dwelling on the past we inhibit our inner creativity, our natural instincts, artfulness and appreciation.
When planning an aquascape it is easy to get drawn into a long, detailed, convoluted process of planning even the finest details of the scape, but an aquascape is a natural, living, breathing creation so it is not possible to foresee every step that Mother Nature will take. By attempting to foresee every minute detail in an aquascape we can kill the natural beauty and spirit of the scape, which can leave a scape feeling a little lifeless, unnatural or soulless.
James tells me that this aquascape was completed in a very short space of time, with no fore-planning involved and describes how his only 'plan' or guide for this aquascape was that he wanted to create a 'green jewel' to showcase the natural beauty of the hardscape.
'Hidden Valley' certainly achieves this: the bright green of the plants contrasts beautifully against the blue stone. Each element in the aquascape enhances the colour and texture of the others, creating a bright, jewel-like aquascape.
James adds 'The huge selection of hardscape materials and plants available to choose from in The Green Machine makes it easy for you to allow your creative juices to flow because it means you don't have to plan ahead like you would if you had a restricted choice. Whatever I want, I can find it somewhere in The Green Machine'. James went on to explain that this freedom of choice makes it easier to aquascape instinctively, which is often when the very best results are achieved.
This artwork is currently on display in The Green Machine (date 18/11/10)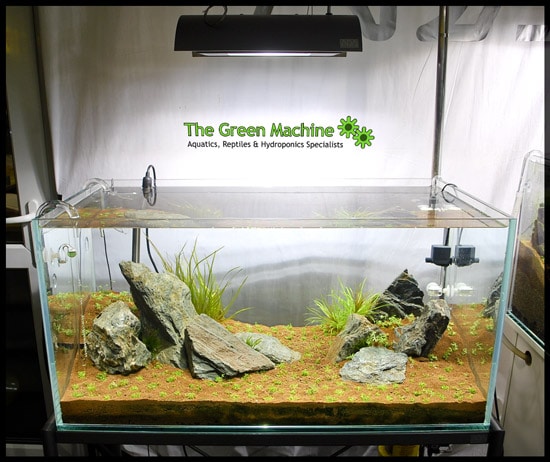 Setup Specifications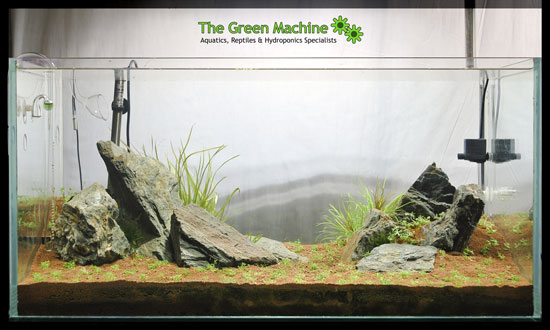 ** More photos will follow as the aquascape progresses.
Come and see this aquascape at our Wrexham shop.