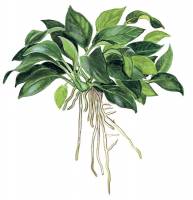 We've got 10 brand new exciting species of aquatic plants in our range! All these plants are provided by Tropica, and therefore of the highest quality. Take a look below and click on the title or image for more details, photographs & prices etc.
It always feels good expending our already massive range of aquarium plants, and there are some real gems in this collection… an ideal addition to any aquascapers arsenal!
Anubias barteri var. nana 'Petite'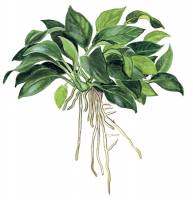 A mutation which appeared in cultivation at the Oriental aquarium plant nursery in Singapore. Grows very slowly, and can be difficult to keep in healthy growth. It is most decorative when attached to stones or roots, and like other Anubias should be attached with fishing line until it gains a hold. A speciality plant which is ideal for miniature landscapes in small aquariums.
Echinodorus 'Reni'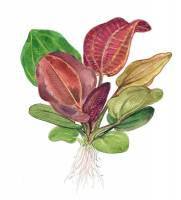 "Reni" is a well-known cultivator characterised by being amongst the smallest of the red Echinodorus. The new leaves of the plant are reddish-brown to deep beetroot in colour. It can be used in small aquariums and is unpretentious. The plant requires a lot of light and nourishment for optimal colour development.
Hydrocotyle tripartita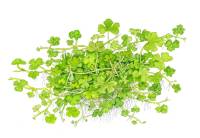 "Japan" is the popular name of the plant in different plant forums. It is probably a variant of Hydrocotyle tripartita. It is characterised by fast, compact growth and small, intensive green leaves on vertical stems. The plant is carpet-forming and its compact growth can be promoted by physically pressing the carpet with your hand when maintaining your aquarium (mechanical retardation). Carpet formation and compact growth do best in good light.
Hygrophila sp. "Araguaia"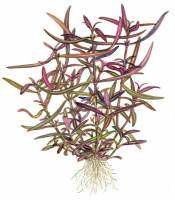 "Araguaia" is a river system in Brazil and it is under this name that the plant has become known. There are many signs, however, that the plant is a Hygrophila lancea from Japan and Hong Kong. It has compact, tight-sitting leaves and grows branches easily. Pinching of the stems maintains a bushy look. The plant is reddish brown to purple in colour and is promoted by good growth conditions. The growth rate is average for a Hygrophila.
Nymphoides sp. "Taiwan"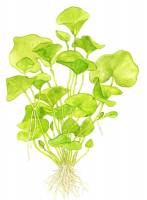 Nymphoides sp. grows in Asia and Africa – and this variant of the species originates from southern Taiwan. This variant is characterised by many underwater leaves and the intense, light-green, transparent colour of the plant. The plant is fast-growing and it is necessary to thin out the leaves (remove oldest leaves and surface leaves). The plant is easy to care for under varying conditions, but for optimal growth it requires a lot of nourishment. The new plant grows from the plates of old leaves.
Fontinalis antipyretica 'Willow'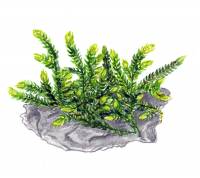 Description coming soon…
Riccardia chamedryfolia
Coral moss – thick and compact moss species with an intense, deep green colour. Riccardia is specially suited for attaching to branches and stones. The moss grows slowly and is easily overgrown by algae or other mosses. Riccardia requires more light than other moss species.
Fissidens fontanus – Description & photos coming soon!
Taxiphyllum flame – Description & photos coming soon!
Myriophyllum mattogrossense sp Red – Description & photos coming soon!