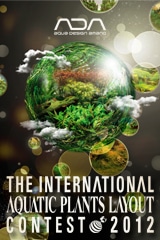 International Aquatic Plants Layout Contest (IAPLC) 2012: Voting Begins!

The top 200 aquascapes have been selected by the IAPLC steering commitee which includes Practical Fishkeeping Magazine Editor Jeremy Gay. You can see the top 200 entries (in no specific order) on this page.
2nd round grading is in progress; the contest participants, aquarium stores selected by ADA and aquarium magazine editors of the world will vote on the layouts from these 200 candidates over the internet.
James Findley carefully graded and selected his three votes… his comments on his choices include;
"complex and effective use of plants and wood. A real slice of riverbank"
"some fine root like wood in use and good use of free space centrally. Minimal use of plant species throws further attention to the decor used here"
"A very original layout and minimal use of plant species further heightens the graphic qualities of this scape"
We will publish James' full reviews at a later date along with identifying the three he voted for.
Final selection of the Grand Prize winner, and top 100 world ranking layouts will be decided by counting the results of the votes at the Nature Aquarium Party on October 27th at Tokyo International Forum.