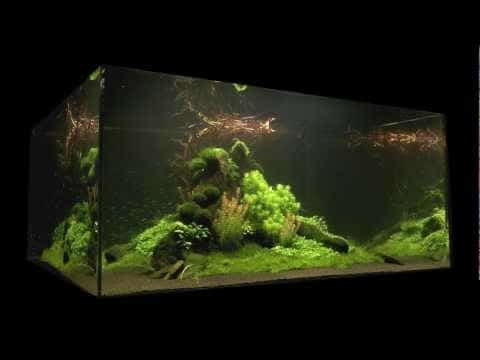 View the complete Aquascape Journal here: https://thegreenmachineonline.comnatures-chaos-aqu… This 150 x 150 x 75 cm Nature Aquarium by professional aquascaper James Findley has matured well and is definitely one of the most stunning works we have ever had on display.
This film was shot in August 2012- just over a year after the aquascape was planted. It goes to show how, with good maintenance, a Nature Aquarium can last a very long time.
This is a follow up video to "The Making of Nature's Chaos" 30 minute documentary which can be viewed on the Aquascape Journal page (link above).
The sand was always supposed to be black like a volcanic island. We had some problems with the first batch of sand which is why in earlier coverage the sand is much lighter. The issues with the sand have since been rectified and we replaced the sand to fulfil James' original vision.
Of course, nothing comes close to seeing it for yourself, but because we know that not everyone can travel to see us regularly, we will be releasing more images of this beautiful Nature Aquarium as it progresses.
You can see more of James' iconic work throughout our website in our Aquascape Journal section and our Aquatics Gallery.