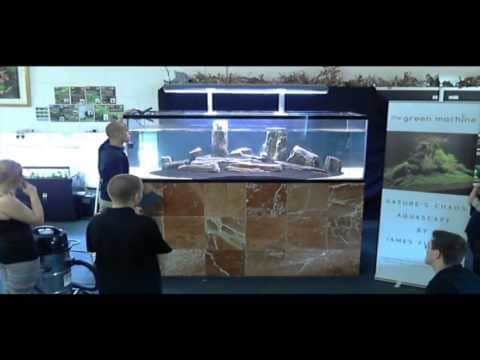 This Friday the 26th July James will be aquascaping another of our huge display aquariums at The Green Machine (Wrexham) to create something new and stunning. He has something very special in mind for this colossal tank which is approx. 229 x 91 x 76 cm in size.
He has been sorting through our tons of fossilised wood and has chosen some pieces which can hardly be lifted by hand- some in excess of 60kg per piece! He has another technically challenging hardscape layout in mind for this project.
Feel free to come along on the day and watch the first stages of this aquascape being created. James expects to have the substrate and hardscape in place by the end of the day, with planting to follow approximately 3 weeks later (date T.B.A.).
You can watch a shortened version of the live broadcast here:
Here are some of the aquascapes that have previously graced this canvas…