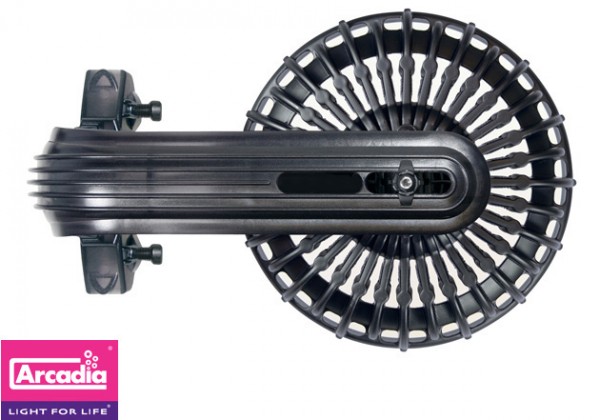 Why we didn't stock LED lighting…
Some time ago we wrote an article entitled 'Why we don't stock LED Lighting' because we were constantly being asked why we didn't by our customers. In that article we explained that despite testing several LEDs we had not yet found one that passed our stringent tests, set by professional aquascaper and founder of The Green Machine, James Findley: try it test it and try it again.
We emphasized that we were confident that eventually an LED would be developed that was suitable for planted tank growth, but that whilst we had tested several LEDs from different trusted manufacturers we had not yet found one that worked properly.
Why we now stock this LED light…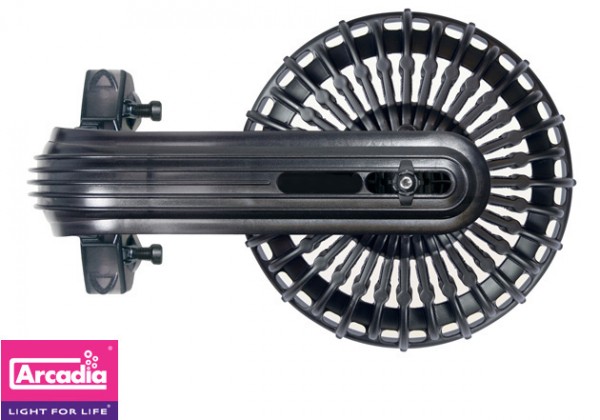 We are very pleased to say that we have now found an LED that works for planted tanks!
We have had the Arcadia Eco-Aqua 30W White LED on test for some time now. We have tested one on a 30cm Do!aqua Cube Glass and we also tested two on a 60x45x45cm aquarium. We have successfully grown Hemianthus callitrichoides 'Cuba' (a plant which requires high light levels) with these lights, along with many other species of plant. So far, the plants have grown well and been pearling nicely, although some of them did take a little time to acclimatise.
From our preliminary tests, we are now satisfied that this LED is good enough for us to stock it. We will be running further tests on larger aquariums, but we are happy to say that it definitely works on the sizes we have tested so far. Watch this space for more information.
Why we don't stock any other LEDs yet…
We would like to stress that this is the only LED we have tested so far that we have been happy with – in our opinion,  the vast majority of LEDs are still not good enough for planted tanks.  Unfortunately many unscrupulous manufacturers and retailers are selling LEDs as the magic bullet for planted tanks, even though most of them just do not work well enough for good plant growth, and even more unfortunately they often provide people within the aquascaping world with freebies and added extras to promote their products, giving them credibility despite their shortcomings. We have even heard rumours of people secretly altering the electric supply and output of some LEDs in order to show better plant growth, even though it negates two of the main benefits of LEDs: power saving and extended bulb life! When LEDs are altered in this way they normally use more electricity and have a shorter life span.
Our Independence
Unlike many people, we are completely independent. We do not get paid for the reviews we do, or receive any additional benefits.  So you can have complete confidence in our tests and product reports.
Our Philosophy
The Green Machine was founded by professional aquascaper James Findley: it is of vital importance to James that the customer is central in everything we do – he was a hobbyist for over 15 years and knows how frustrating it is when you get sold something that just does not work.  So, because of this, we test everything we supply because we believe in customer service. We believe that everyone should be able to have a beautiful planted tank and we believe that no one should be ripped off along the way.  We only sell what we understand and we only sell it if we know it works. That is why we invest time and resources in testing all our products before we release them to our customers.

The Arcadia Eco-Aqua LED is made with XPG Higher Output LEDs. It can be fixed on the side of the aquarium, suspended from the ceiling or a TGM Custom Built Light Stand, or placed on a suspension rail. For more information, or to purchase one and see the results for yourself, click here.
Do you think you've got a great product that would pass our tests…?
We are always keen to test promising new products because we are always on the look out for the best for our customers. So if you are a manufacturer and you think you have got something that would meet our high standards why not contact us to see if we might arrange a test? We are particularly on the look out for more LEDs that would meet our strict, high standards.
A Note To Our Customers…
If you are considering making a substantial purchase with us or anyone else and you would like our personal opinion of the product before you make your investment in it, please call us on 01978 265 090 and we will be happy to assist you in any way we can
For more information read our previous article 'Why We Don't Stock LED Lighting' here
For more information on the Arcadia Eco-Aqua LED, or to purchase one click here.
Plus, for a limited time to celebrate this light, we will be offering a free pair of Aquascape Pro Pinsettes and a free Book of ADA with every light purchased – just enter 'LED-F' in your order comments at checkout, or quote it on the phone.